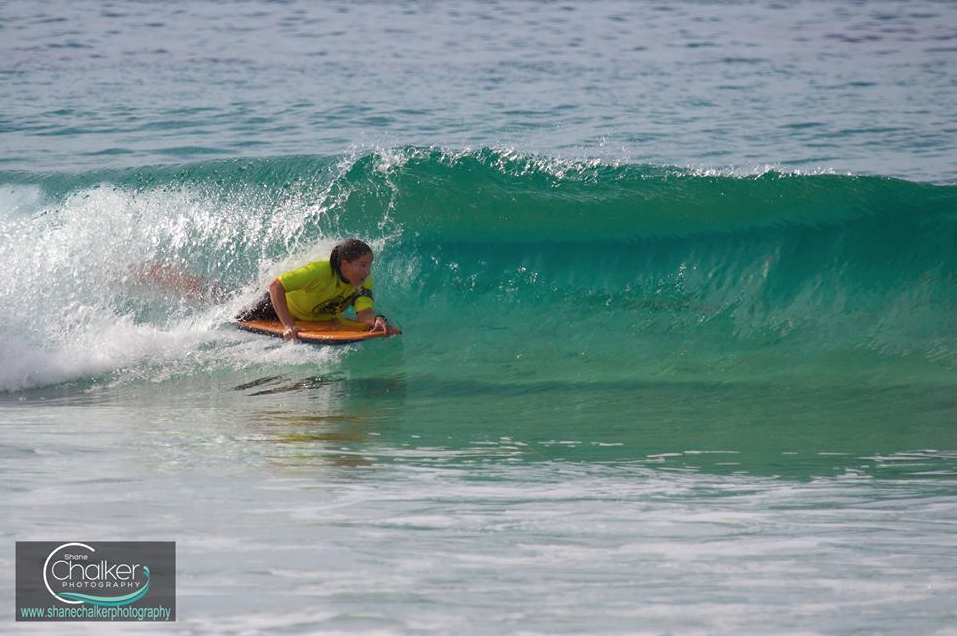 Jane Keel Wins 2015 Jeff Wilcox Memorial Premier Bodyboard Event
Jane Keel Wins 2015 Jeff Wilcox Memorial Premier Bodyboard Event
(Top – Jane glides to victory photo by SHANE CHALKER PHOTOGRAPHY )
27th July 2015 – The 2015 Jeff Wilcox Bodyboard event was held at North One Mile Beach at Forster on the mid-north NSW coast.
Although the waves did not show as much enthusiasm as the 2014 event it was clean, clear 2 foot conditions with nice walls for the girls to bring their best to the table.
Jane Keel won the event with a pair of 6.17 rides edging ahead of current Australian Junior Champion Sam Gillett and powerhouse Emma Cobb.
Sam Gillett said after the final… "It was a really fun one but also tough level of competition this year. At the start of the heat for the first 5 minutes some waves came through but then it went flat for a majority of the heat so it made it difficult to get the waves but Jane got two great waves."
2015 champion Jane Keel said she was stoked to take out this year's title and that the vibe around the competition was really positive "Everyone was there supporting a good cause! The event attracts more women then any other in Australia and it became clear through the organisation and support around the event why it is growing every year."
This year organiser Aaron Dodds also included a junior development session as part of the event including high profile bodyboarders teaching and hanging out with kids on the beach and in the water. This was a great initiative by Aaron and a positive step for the strengthening development of the grass roots of bodyboarding!
Congratulations to all the girls who took part in the event and Aaron for his tireless work in building this to be such a fantastic competition in the year. For more information check out http://jeffwilcox.com.au
Jeff Wilcox Memorial 2015 Champions
1st Jane Keel 12.34points
2nd Sam Gillett 11.57points
3rd Emma Cobb 11.36points
4th Shauna Gillett 10.80points
Media: